A good choice if you want the best of both worlds. Composite makes a beautiful worktop. It is made of 94% quartz minerals and, aesthetically, has the look of a genuine natural product.
Pulverised granite is mixed with an artificial resin adhesive and cast in moulds. Contrary to natural stone and marble, the surface is completely sealed, preventing fats and other substances from penetrating the material and causing stains. In other words, you get the exclusive look of natural stone and innovation's effective product features, in one worktop.
Composite is both a natural and a man-made material. It consists of 94% quartz, which is pulverised and mixed with a laboratory-designed resin adhesive and, in some cases, pigments. When the compound is heated and compressed into a mould, the resulting product is extremely hard with a completely sealed surface.
DFI-Geisler sells composites produced by Europe's leading manufacturers, including Spanish Cosentino. They were the first to develop the material in 1990 and, today, they market their product under the name of Silestone®.
Read more about composite board in general and about Cosentino's composite in particular at silestone.com. You will find plenty of inspiration here.
An innovative generation of surfaces composed from a hybrid formulation. A new high-performance blend of premium minerals, quartz and recycled glass.
All Silestone colours with HybriQ+ technology are manufactured using 100% renewable energy and 99% recycled water. They contain a minimum of 20% recycled materials, such as glass, making the product more sustainable by reusing waste.
Composite is available in three thicknesses. And because this is a moulded material, it is possible to manufacture worktops as thin as 12 mm. This opens up potential for a range of unique kitchen designs, with the material's solid look providing a fascinating contrast to the thickness of the composite.
• 12 mm
• 20 mm
• 30 mm
Due to its sealed surface, the worktop is quick and easy to clean with a soft cloth wrung out in warm water. If you spill on the surface, you can simply wipe up without worrying about stains or hygiene. Even fats, such as butter and margarine, will never damage a composite worktop. On the other hand, the surface is colder than, for instance, laminate, Corian® or solid wood. However, this makes it a good working surface for baking. The dough won't stick to the cool surface.
As with all other materials, we recommend using trivets and table mats for hot dishes and pans. Extreme heat may cause discolouration to the surface of the composite. And this cannot be removed.
Although composite worktops are produced in a mould, they are subsequently treated in the same way and on exactly the same machines as natural stone and marble. We can therefore turn various edges for your worktop. Some worktops are polished to give a smooth, glossy surface; others are delivered with a flat-polished surface for a more natural look.
There are no less than 60 different colours of composite to choose from. You can select a natural tone or maybe a bright colour for your modern, daring kitchen design. DFI-Geisler has a broad selection of the most popular colours on stock, but other colours can be ordered with a slightly longer delivery time.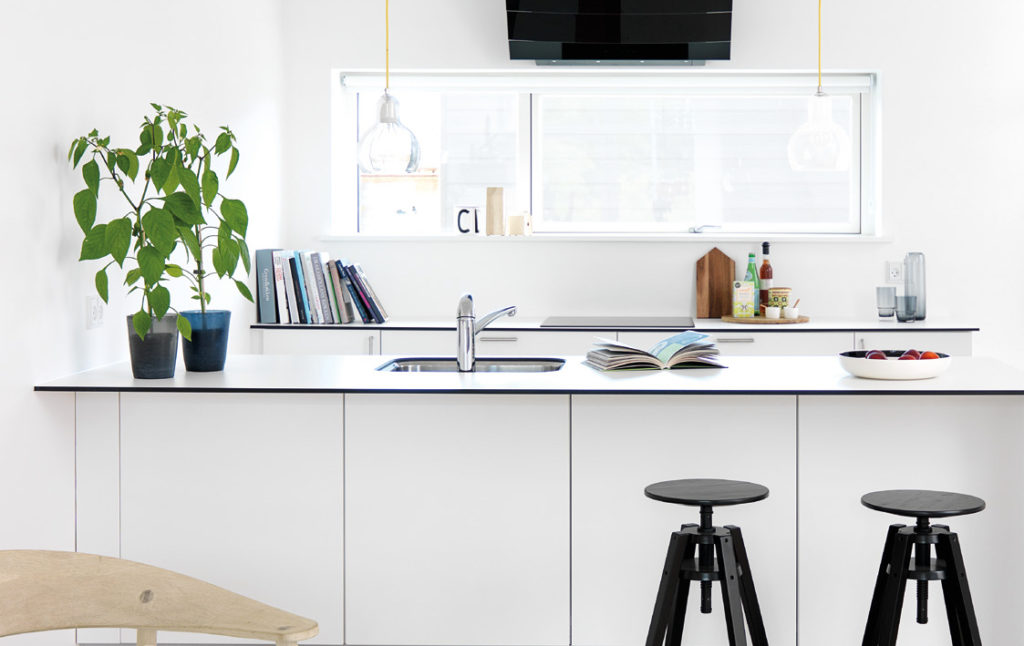 Quality description of Fusion composite stone
This quality description defines when irregularities in Fusion composite stone are grounds for complaint.
Due to the manufacturing process, a few irregularities may occur which are highlighted here.
There are three different ways of fitting a sink in your composite worktop. If you choose a Silestone® surface, solid-cast, polished sinks are available in some of the most popular colours and you can select a sink in the same material as the worktop, with no rim between worktop and sink.