A good choice if you want a kitchen with a light, furnished look. The 12 mm thin worktop is very suitable for 'floating' installation. The worktop is fitted so that it looks like it is floating above the kitchen elements, giving a sophisticated and distinctive look. Compact laminate is also almost indestructible and it will give you pleasure for many years – both to look at and to use in busy kitchen.
What is compact laminate?
Compact laminate is made of paper. Yes, you read that right… paper! How is it possible for this to become one of the strongest and dimensionally stable worktops? The answer is that compact laminate is made by compacting approximately 50 layers of resin-impregnated and colour-ingrained paper under high pressure, at a high temperature. Both sides of the laminate are then covered with decorative paper, which is impregnated with melamine to give the worktop a clear and scratchproof surface. The finished result is strong, stable, exclusive and thoroughly modern.
Compact laminate is always 12 mm thick. However, its special structure, with approximately 50 layers of compacted paper, gives the worktop superior strength, equal to much thicker worktops in other materials.
Compact laminate is basically maintenance-free and particularly easy to keep clean. It is mostly sufficient to use a dishcloth wrung out in warm water. Due to compact laminate's superior strength, it is also able to stand up to the minor bumps and knocks of a busy kitchen.
However, laminates with a smooth surface, in particular, can be susceptible to scratches. Therefore, you should be careful when handling chopping boards, cutlery, dishes, etc. on the worktop.
Compact laminate can cope with temperatures of up to 110°C for a brief time. Nevertheless, we recommend that you always use trivets or table mats.
The fact that compact laminate is only 12 mm thick creates a lightness of design, which can be further enhanced by mounting the worktop to 'float' above the cabinets. To create this special floating effect, 20 or 30 mm beading is laid under the worktop to lift it from the kitchen elements and cabinets. Edging is available in laminate, aluminium-laminate or wood, depending on the look you want to create for the finished kitchen.
Compact laminate is supplied with bevelled edges.
Compact laminate worktops are available in 10 different shades, both block colour and quality print to give the surface the exclusive appearance of natural stone such as marble or granite.
If you want a white worktop, you can choose either a black or a white core (the colour-ingrained paper between the outer pieces of decorative paper), resulting in two very different looks at the edges. Or you can select a white worktop with a grainy texture and white core.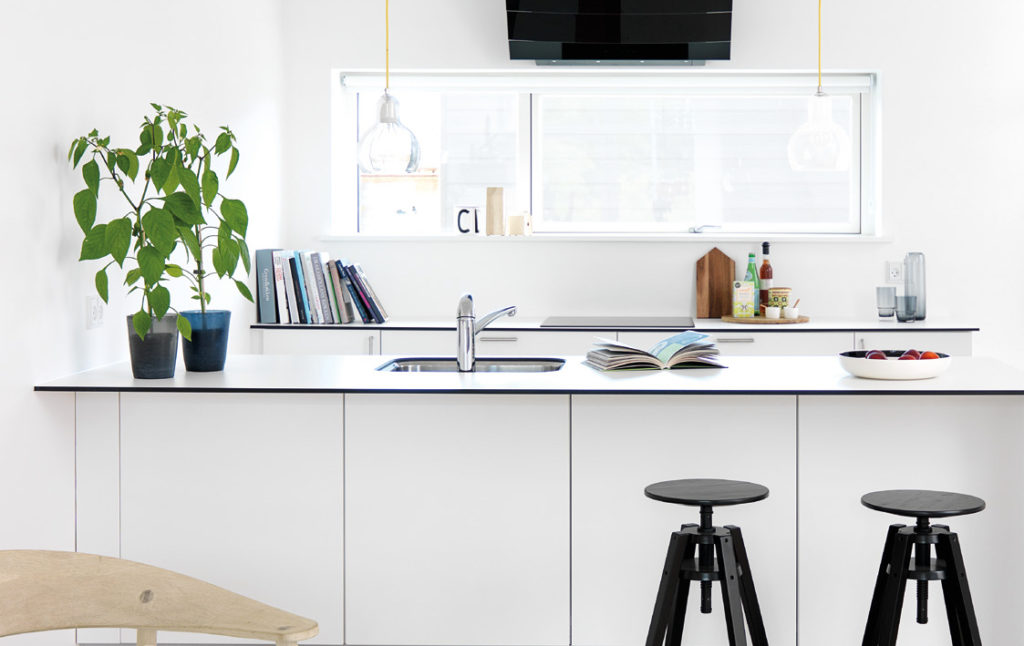 The sink can be fitted into your compact laminate worktop in four different ways, each resulting in a different look.