A good choice if your worktop needs to suit active family life – and still be affordable.
Laminate is heavy-duty, very hygienic and easy to clean. And the sky's the limit when it comes to colour, design and edging.
You can even choose a special laminate with a silk-matt finish that prevents reflections from the sun and greasy fingerprints.
A laminate worktop consists of a number of layers. The surface is a thin layer of clear melamine, which protects the decorative paper underneath. Under the decorative paper, there are seven to eight layers of hard compressed laminate paper, with a total thickness of at least 0.8 mm.
The core of the laminate worktop is chipboard manufactured in Denmark from cleaned recycled timber. So, the next time you take an old chest of drawers to the recycling centre, you can take pleasure from the knowledge that it may be reborn as a kitchen worktop. And the laminate we use at DFI-Geisler has 50% more chip fibre than the chipboard you can buy at a DIY centre. This gives extra strength and quality. The bottom layer of the laminate is a special piece of paper that protects the laminate against moisture and the tension and warping this can cause.
Laminate is available in 5 thicknesses. You can therefore achieve exactly the look you dream of.
• 12 mm (To be used as a splash panel, if you want to have the same surface on the wall as on the worktop – or as a contrast)
• 20 mm
• 30 mm
• 40 mm
• 60 mm
There is quite simply no material easier to clean and maintain than laminate. Daily cleaning is easy: use a soft dishcloth wrung out in warm water, without detergent. Laminate is also extremely strong and able to handle daily wear and tear, with all its bumps and knocks. We recommend that you always use a trivet or table mat for hot pans and dishes – even though laminate can cope with temperatures of up to 110°C for a brief time.
Due to our wide selection of laminates, the choice is almost unlimited and you are sure to get the worktop you want. You can also create original and functional solutions by combining your laminate worktop with a worktop in a different material, such as steel or natural stone. Let your kitchen supplier help you find the perfect combination of worktop and edging.
Under the top layer of clear melamine, you will find decorative paper that gives the laminate worktop its colour and pattern. We have up to 80 varieties in our range, both plain and decorated, so you can choose a worktop with a very natural look, featuring different types of wood, marble and other stone types. We also offer an exciting selection of printed designs. And if you want your laminate worktop to have a particularly exclusive look, we have super-matt laminates with nanotechnology that prevents inconvenient reflections and greasy fingerprints.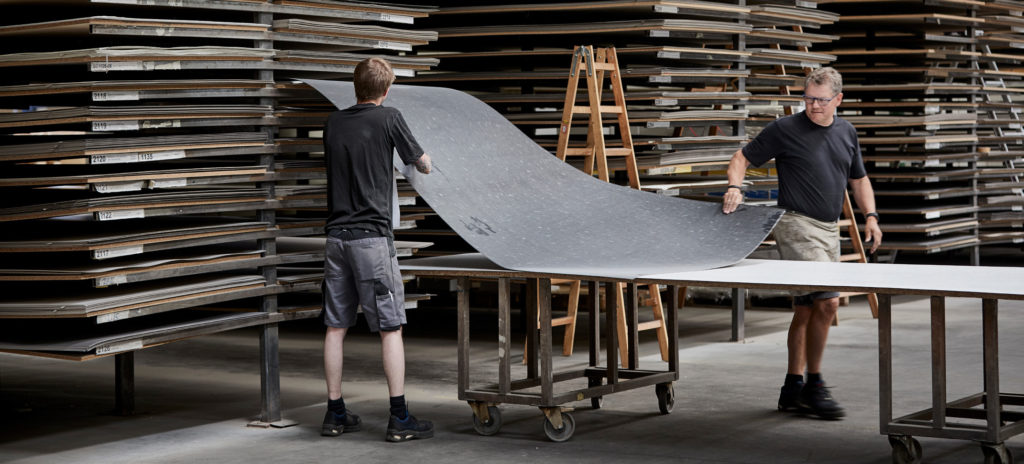 Laminate worktops are always supplied with an undermount sink, and the adhesive is strong enough to cope with an overall load of more than 150 kg. We have a wide selection of types, designs and sizes.