A good choice if you want an exclusive, stylish worktop with all of the features you could dream of. Ceramic and Dekton® worktops are scratchproof, heat-resistant, colour-fast, easy-to-clean and thoroughly robust. And you will have a worktop that is beautiful to look at – and a joy to work in – for years.
What are Ceramic and Dekton®?
A ceramic worktop consists of sand, feldspar and clay with added pigments. This mineral mix is poured into a mould and heated to 1200 degrees, resulting in a wealth of attractive features.
Sophisticated technology gives Dekton® the same features. A mix of mineral particles performs the same process in the space of a few hours that takes thousands of years in nature. The beautiful colours and patterns of both ceramic and Dekton® are colour-fast.
Dekton and ceramic are both very hard materials, but the surfaces can be scratched.
The surface appearance of the glossy Dekton and ceramic worktops can be visually compared to the glass surface of the hob. There will be less visible scratches. To avoid scratches, avoid pushing and pulling objects across the tabletop with a glossy surface.
It is important to understand that Dekton and ceramic tabletops are extremely resistant, but in the glossy versions, the use seems more obvious.
A standard DFI-Geisler ceramic worktop is 12 mm thick. However, you can order a 20 mm, 30 mm or 40 mm worktop if this is a better match for your kitchen design.
• 12 mm (ceramic)
• 20 mm (Dekton® og ceramic)
• 30 mm (ceramic)
• 40 mm (ceramic)
You will find no easier or more robust worktop for your kitchen than ceramic. It has a broad range of features which make it extremely convenient for a busy kitchen.
So you can spill absolutely anything and simply wipe it up with a damp cloth. You can use cleaning agents, if necessary.
Heat and cold won't damage your ceramic worktop, either. The material is actually so heat-resistant that your saucepan will melt before your worktop, and it's no problem to leave food from the freezer to defrost on the surface.
Dekton and ceramics are very hard materials, but the surfaces can be scratched.
With extreme use or in unfortunate events where something hard like a quartz grain gets between the worktop and a pan, a scratch can occur. Scratches do not traditionally appear on matte and textured surfaces. In shiny and smooth surfaces, even minor scratches from use are visible.
To avoid scratches, avoid pushing and pulling objects across the tabletop with a glossy surface.
The 12 mm thin ceramic worktop is a perfect match for today's modern kitchen designs, with clean lines and wide surfaces. If you want to give the worktop a thicker and more substantial look, you can add an edge of up to 40 mm.
In the case of Dekton®, all visible edges are bevelled. You can choose either 2 mm or 3 mm.
There are more than ten stunning colours to choose from when selecting your ceramic worktop. All are UV-resistant and, therefore, won't fade in sunlight. Dekton® is available in more than 40 UV-resistant colours and patterns, from plain worktops to striking textures that give an appearance of natural stone such as marble.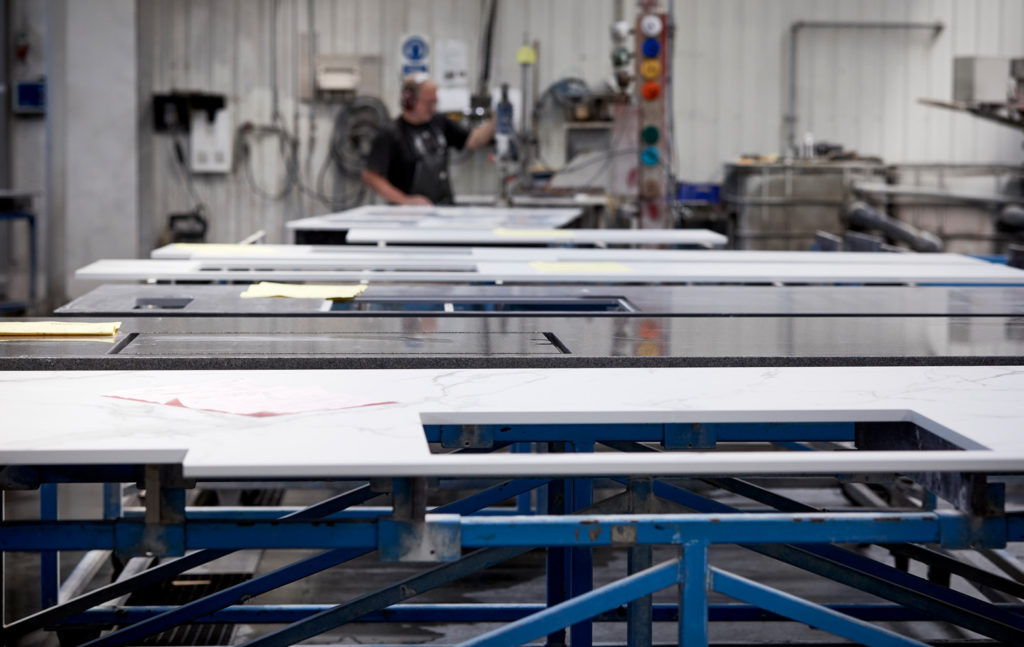 Ceramic worktops come with flush-mounted steel sink with visible flange or undermounted steel – or composite sink.