A healthy working environment
A healthy working environment
DFI-Geisler's health and safety policy forms the basis for development and maintenance of a healthy physical and psychological working environment in which employees thrive.
One important element of this work is our annual occupational health and safety survey.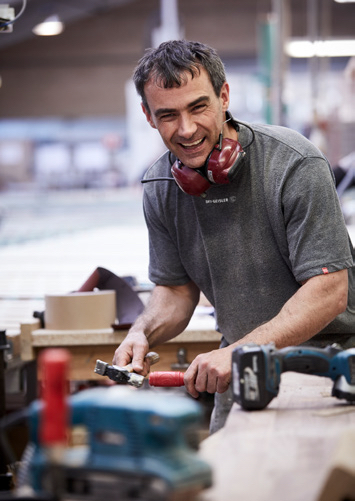 Our goals are:
To ensure that all employees can perform their work in a safe and healthy working environment.

To ensure that the working environment is not detrimental to health, and to prevent work-related accidents and absence.

To ensure a healthy workplace, focusing on close working relationships, well-being and development.

To take the company's initiatives to promote occupational health and safety one step further than legislation dictates.

To incorporate occupational health and safety when work is reorganised.

To incorporate occupational health and safety in investments.

To support the health and safety policy with individual policies for relevant areas.
DFI-Geisler's 220 employees are our most important asset. That's why we look after them well.
To make sure that we do this well enough, we participate in the world's most widely used employee satisfaction survey: Great Place to Work. Great Place to Work® is the global leader in development and recognition of workplaces that have cultures with a high degree of trust.
At the same time, health, well-being and safety at work are constantly in the spotlight. One good example of this is OfficeFit, a fitness programme that gives our office workers access to a variety of ergonomic equipment, such as office bikes. Staff can also request the assistance of occupational therapists to optimise the ergonomic aspects of their workstations and to give advice on adjustment of desks and chairs.
We place strong emphasis on workplace safety in our production operations. For example, we have established three health and safety teams, consisting of seven representatives from the stone department, "the other department" (timber, laminate, etc.) and administration. The health and safety teams can provide the health and safety committee with suggestions, improvements and other initiatives.
We want no work-related injuries. Full stop!
Preventive actions in production
All safety instructions for machinery were revised in 2020 and printed on yellow paper to make them more visible.

We drew up a "Chemical Workplace Assessment (WPA)" for all processes in 2020, to comply with new legislation. The WPA replaces the previous workplace instruction manual.

All safety data sheets were updated in 2020. Hard copies were eliminated before 2021, so that from now on data sheets will only be available electronically, with access from selected computers. This makes it easier to keep them up to date.

We update our internal notice boards regularly to show the number of days since the last reported work-related injury. The target is 0 work-related injuries.

Since March 2020, we have performed monthly safety inspection rounds in all departments, to ensure that we are more preventive and proactive.

All "near misses" which come to our attention are analysed and processed in the same way as actual work-related injuries.
Preventive measures in the office
We make exercise bikes and other ergonomic aids available in all departments in the office.

We make frequent use of an occupational therapist to advise employees in adjustment of desks and chairs in order to achieve the best possible working position.