The right worktop
is half your kitchen.
At least
In many ways, the worktop you choose will set the scene for family life in your kitchen for many years to come.

So there are a few important questions you should ask yourself about your worktop. How does
it add to the kitchen's overall design and look? How does it feel? How hard-wearing is it?
How easy is it to keep clean? How and how often should it be maintained? And so on.

Three important considerations when choosing a worktop
Stål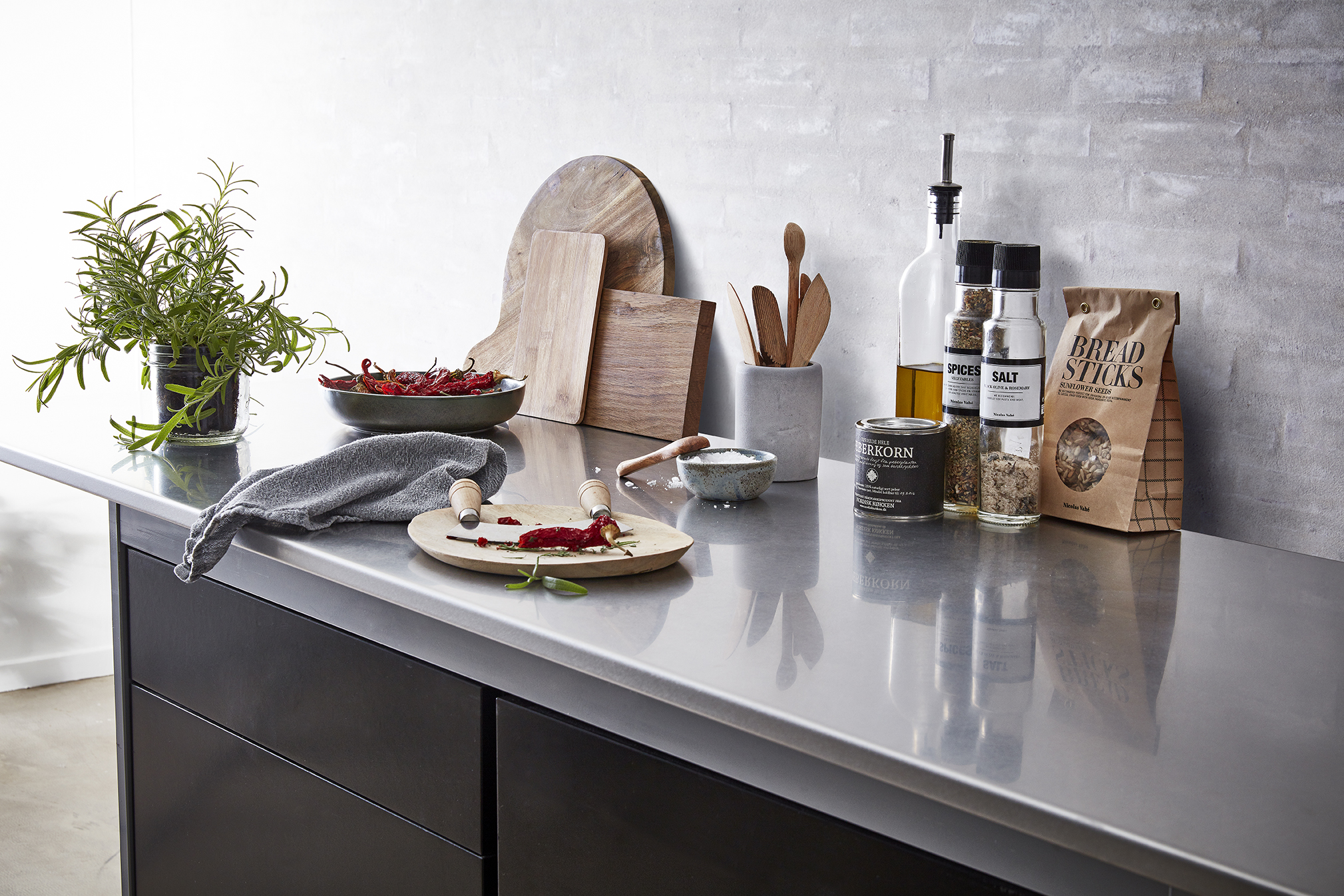 A good choice if you want a super-hygienic, highly practical and eternally modern worktop, which gets more beautiful almost day-by-day as scratches appear and the steel takes on its natural patina. Steel is also an environmentally friendly material, which never perishes – a steel worktop will cope with almost anything and screams out to be used.
Day after day.
Linoleum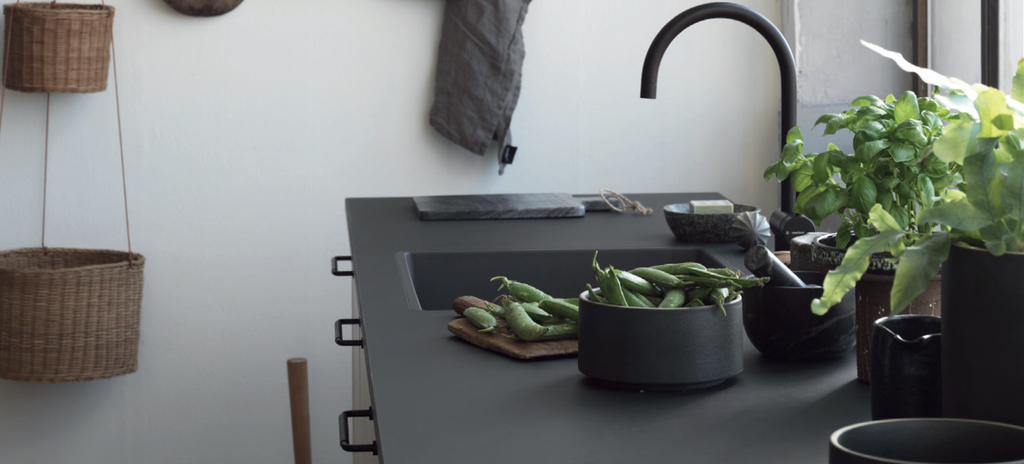 Linoleum is a good choice if you want an elegant surface, which is renowned for its durability and is the epitome of high quality, design and natural ingredients. Linoleum is a sustainable choice. Linoleum combines a satin-matt finish with a delicate, warm texture, giving each worktop a very characteristic, individual and quite unique design and look.
And the structure and surface of the linoleum give the material an attractive sheen with time.
Natursten & Marmor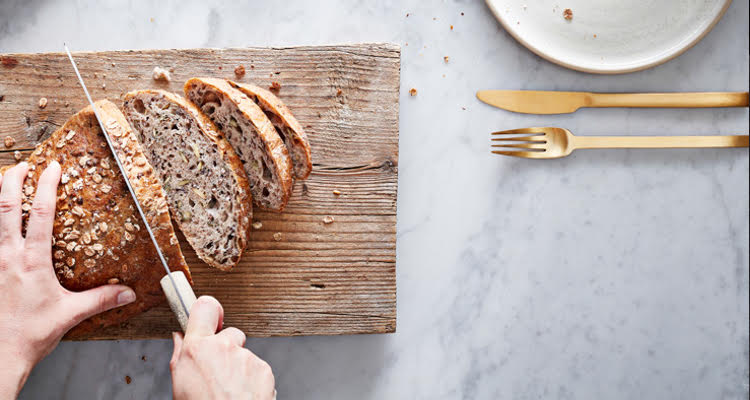 A good choice if you want a worktop created by nature over millions of years – and which is thoroughly unique. Natural stone and marble give you a worktop with an incredibly beautiful surface and with individual detail – color, grain and shrinkage cracks – that gives it a personality of its own. And makes it your very own. Natural stone and marble are also perfect in combination with other materials such as solid wood and steel.
Laminat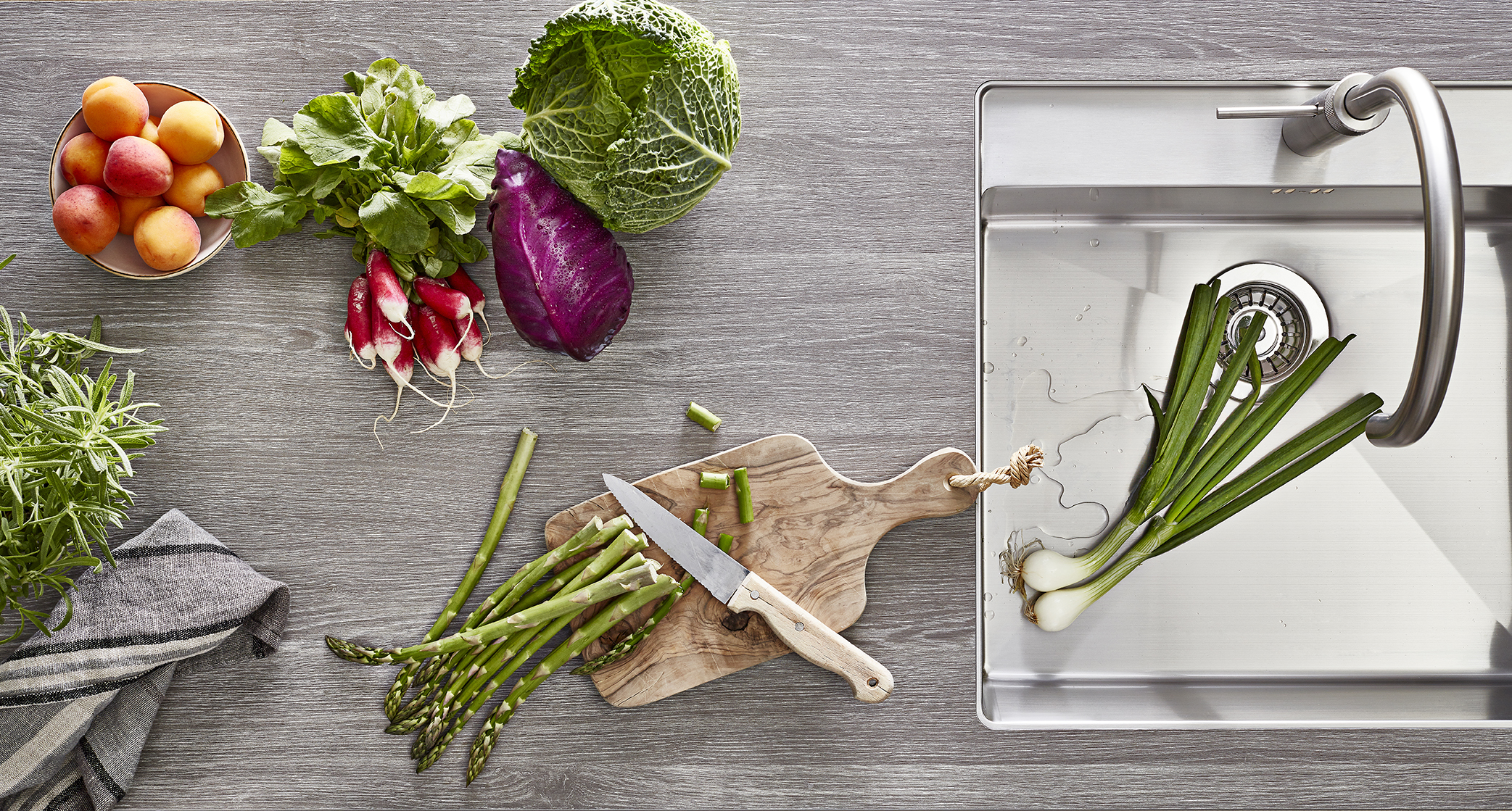 A good choice if your worktop needs to suit active family life – and still be affordable.
Laminate is heavy-duty, very hygienic and easy to clean. And the sky's the limit when it comes to colour, design and edging.
You can even choose a special laminate with a silk-matt finish that prevents reflections from the sun and greasy fingerprints.
Kompaktlaminat
A good choice if you want a kitchen with a light, furnished look. The 12 mm thin worktop is very suitable for 'floating' installation. The worktop is fitted so that it looks like it is floating above the kitchen elements, giving a sophisticated and distinctive look. Compact laminate is also almost indestructible and it will give you pleasure for many years – both to look at and to use in busy kitchen.
Massivtræ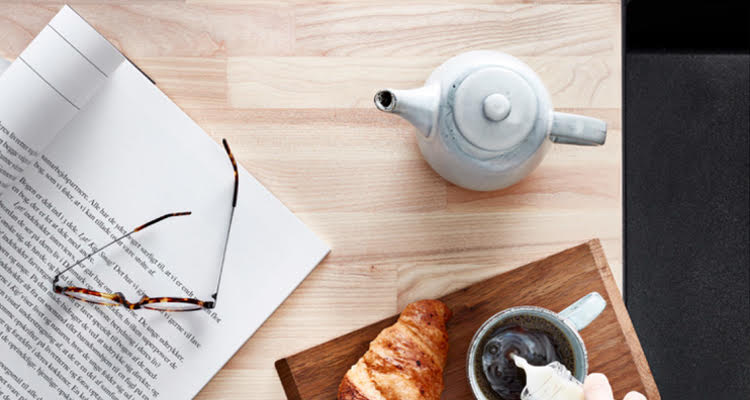 A good choice if you want to give your kitchen natural glow and warmth.
And due to the broad selection of wood and finishes, it will be no trouble to find a shade and look to complement the rest of your kitchen.
Solid wood is also suitable for combining with other worktop materials, such as steel, and a bridge solution in solid wood can create a beautiful focal point for family life in the kitchen.
Keramik & Dekton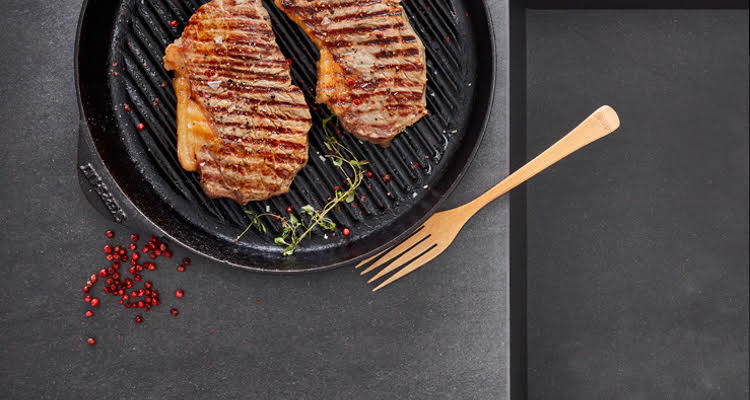 A good choice if you want an exclusive, stylish worktop with all of the features you could dream of. Ceramic and Dekton® worktops are scratchproof, heat-resistant, colour-fast, easy-to-clean and thoroughly robust. And you will have a worktop that is beautiful to look at – and a joy to work in – for years.
Kompositsten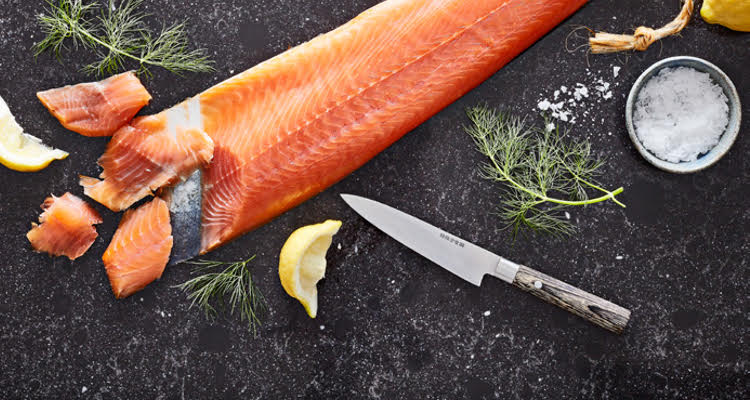 A good choice if you want the best of both worlds. Composite makes a beautiful worktop. It is made of 94% quartz minerals and, aesthetically, has the look of a genuine natural product.
Pulverised granite is mixed with an artificial resin adhesive and cast in moulds. Contrary to natural stone and marble, the surface is completely sealed, preventing fats and other substances from penetrating the material and causing stains. In other words, you get the exclusive look of natural stone and innovation's effective product features, in one worktop.
Preferences and needs vary.
And so do our worktops.
Tip:
The table gives you an idea of pricing and the main features of the ten types of worktop material DFI-Geisler offers.
Materiale
Price
care
Resistance to wear
Heat
Can be repaired
Laminate
Low
Easy
High
Briefly
No
Compactlaminate
Low
Easy
High
Briefly
No
Solid Wood
Medium
Medium
Medium
Not resistant
Yes
Natural stone
High
Medium
High
Briefly
Yes*
Dekton®
High
Easy
High
Resistant
No
Ceramic
High
Easy
High
Resistant
Yes*
Composite
High
Easy
High
Briefly
Yes*
Linoleum
High
Medium
Low
Not resistant
No
Steel
High
Easy
High
Not resistant
No
* Minor repairs such as edge damage can be carried out by a trained professional.
Sustainability report 2022
At DFI-Geisler we work with sustainability on a day to day basis. It is a naturel part of our DNA – both in the production and product development. As a part of the Ballingslöv International AB Group we have described our work here: Sustainability report.
slide-bordplade
We take your worktop very personally

We are DFI-Geisler, and we custom-make kitchen worktops to the requirements and preferences of our customers.

We sell our worktops through dealers who are passionate about kitchens – and as Scandinavia's leading worktop manufacturer, we are the easy choice. Because we strengthen our dealers' market position and attract even more discerning buyers; buyers who have high expectations when it comes to range, quality and care. And, because we are worktop experts, our customers can trust us to fulfil their dream of the perfect worktop.

We are Danish through and through, with our roots firmly planted on the Limfjord island of Mors. Decency permeates both our thoughts and our actions. We have 225 employees. We have a high level of job satisfaction. We have our own
FSC® certified forest. And we are all proud to be able to make a difference. As a company, as a workplace and as a reliable supplier of customised and sustainable dream kitchens to more than 90,000 European homes – every year.

We are DFI-Geisler. And we understand that the worktop is half the kitchen. At least.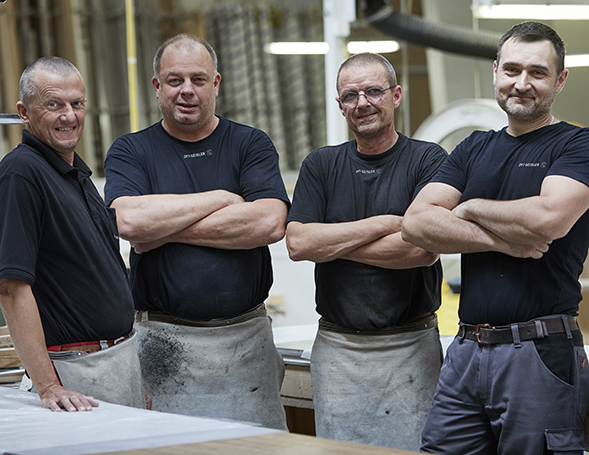 Vi tager din
bordplade
meget
personligt
Uanset hvilket materiale du vælger til din nye
bordplade, og uanset hvilke særlige ønsker du
måtte have til mål, forarbejdning, kanter og vask,
kan du roligt begynde at glæde dig til et perfekt
resultat. Og til en bordplade, der er skræddersyet
til netop dit køkken.

Som Skandinaviens største og førende
producent af bordplader til køkken og bad har
DFI-Geisler nemlig lagt bordplade og køkkenlivet i
mere end en million hjem siden vores start i 1976.
Altid produceret individuelt og efter ordre. Helt
personligt. Tablet
Vi tager din
bordplade
meget
personligt
Uanset hvilket materiale du vælger til din nye
bordplade, og uanset hvilke særlige ønsker du
måtte have til mål, forarbejdning, kanter og vask,
kan du roligt begynde at glæde dig til et perfekt
resultat. Og til en bordplade, der er skræddersyet
til netop dit køkken.

Som Skandinaviens største og førende
producent af bordplader til køkken og bad har
DFI-Geisler nemlig lagt bordplade og køkkenlivet i
mere end en million hjem siden vores start i 1976.
Altid produceret individuelt og efter ordre. Helt
personligt. Mobil