Vores kompositvask Aqua B – sort – med bagplade, der produceres i vores eget design, er en stor succes. Siden introduktionen for 5 år siden har vores støbeform produceret et stort antal af modellen, der i dag er en af vores bedst sælgende vaske.
Der har længe været planlagt en renovering af formen til efteråret 2019, hvor vi forventeligt har endnu en støbeform i drift. Denne renovering har vores leverandør desværre været nødsaget til at fremrykke. Det betyder, at vi ikke kan få leveret Aqua B – sort vaske den kommende måned. Det medfører desværre, at vi ikke kan oprette nye ordrer på Aqua B – sort – vaske før vi er sikre på, at vasken igen er på lager hos os.
Som alternativ tilbyder vi Franke MTG 210-50 i antracit til samme lave pris, som I normalt køber Aqua B – sort – vasken til. Nedenfor fotos af de 2 vaske: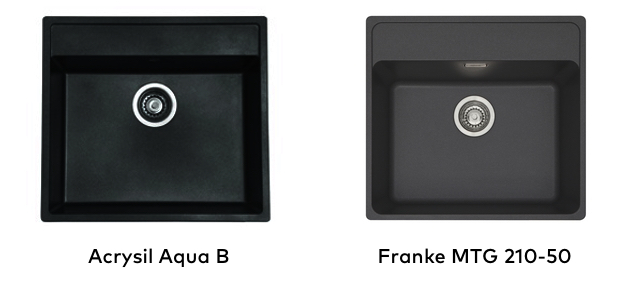 Vi beklager meget den opståede situation, og vil informere straks der åbnes for nye ordrer på Aqua B sort vasken igen.
English
Aqua B sink – temporary stop for new orders
Our composite sink Aqua B – black – with tablet, produced in our own design, is a great success. Since its introduction five years ago, our mold has produced a large number of this model, which today is one of our best-selling sinks.
A renovation of the mold was planned for the autumn of 2019, where we expect to have a new mold in operation. Unfortunately, our supplier has been forced to do this renovation immediately. This means that we cannot acquire Aqua B – black sinks the next month. Unfortunately, this means that we cannot create new orders for Aqua B – black – sinks before we are sure that the sink is in stock again.
As an alternative, we offer Franke MTG 210-50 in anthracite at the same low price as the Aqua B sink. Please see photos below of the 2 sinks:
The customers, who have confirmed orders affected by this, will receive a new order confirmation with the modified sink, and will be contacted directly by their Key Account Manager.
We are very sorry for the inconvenience this may course for you, will inform as soon as we are ready to produce new orders including the Aqua B black sink.